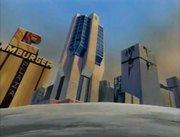 Limburger Plaza (also known as Limburger Tower) is a building in Chicago owned by Lawrence Limburger.
It is a very tall tower that is Limburger's main base of operations where he schemes on how to strip Earth of it's resources or dispose of his enemies; the Biker Mice. 
Limburger's main office is there along with Karbunkle's laboratory and quarters for Greasepit and his gang.
It is destroyed in almost every episode.
It has been revealed in the episode High Rollin Rodents that it has been rebuilt at least 56 times.
Limburger keeps a large aquarium of fish in his office.